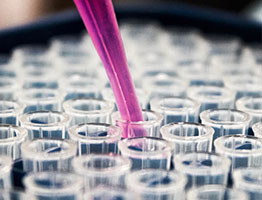 Bio-technologies
Bio-technologies sector covers all processes of fermentation and fractionation / purification for the production of therapeutic products and high added value.
| Type of installation | Purification unit |
| --- | --- |
| Filtration area | 3sqm |
| Filtrat flow | 300 l/h |
The applications :
Extraction and clarification in order to recover the product of interest in the permeate,
Purification: concentration and diafiltration.
SIVA's solutions :
Units reliable ceramic membranes (membranes FILTANIUM ™, all-titanium oxide for total biocompatibility),
Systems adapted to products and processes: wide range channels diameters, outer diameters of membrane, housings (Concept TIS or traditional loop),
Qualified units according to pharmaceutical standards (DQ, IQ, OQ, PQ, and Pharmacopea FDA).
Recommended membrane technology(ies) :
1 – Ceramic Membranes —> MF / UF
2 – ceramic or organic membranes —> UF / NF / RO
* Each goal is a well-defined technology.
NB: The list of previous applications is not exhaustive. Contact our team, we will propose some technologies to meet your needs.
Results :
Units fully sterilizable with steam or hot water,
High filtrate yield,
A wide range of products, laboratory scale (several ml), tools, pilots (from liter to more) provides the tools for an easy scale-up,
Lower energy costs,
Lower operating costs,
Possibility of automation and traceability for supervision.